Top 7 Online Flea Markets to Satisfy Collecting Itch
It's hard to beat the experience of walking into a grassy, tent-filled field or bustling parking lot flea market and being surrounded by tables full of treasures. But online flea markets can be just as fun — and full of just as many bargains. Always check the shipping options. Some offer free shipping on certain items. Here are our Top 7 picks for online flea markets:
Srchie / Srchie.com — Categories include antiques, vintage, collectibles, art, furniture, fashion, jewelry and watches and books. Users click on a search bar, write an item and press the "ant" button. Click on any of the items shown and you will be directed to the item page in the relevant website where you can purchase directly from the seller.
Bonanza / Bonanza.com — Bonanza was founded in 2008. In 2016, it was voted "Most Recommended Marketplace" by EcommerceBytes. It has more than 50,000 sellers in 200 countries with 35 million items listed. It is a little overwhelming to navigate but has good items.
TIAS / Tias.com — TIAS stands for The Internet Antique Shops. Website visitors can buy and sell antiques and collectible items. It's possible, just as in some thrift stores, for people to set up their own online shop. Best for: Antiques, vintage, collectibles and art.
Ruby Lane / Rubylane.com — Sells antiques & collectibles, art, furniture, rugs, jewelry, fashion, dolls, glass, porcelain & pottery and silver. The site is easy to navigate, and items are clearly described. Pictures are plentiful and large enough for buyers to see details.
5miles / 5miles.com — Launched in 2014, this online marketplace is well designed, easy to navigate and has lots of interesting items. Online shoppers can browse categories such as home & garden, sports & leisure, and art & collectibles.
eBay / eBay.com — This is a great site if you are looking for something specific. Its search function is specific and the "buy it now" option helps if you don't like to risk losing an item in a bidding war. It's good for just about anything you might be looking for.
Letgo /Letgo.com — Similar to 5miles, this hyperlocal site allows you to buy, barter or sell within your own neighborhood. Its strength is it being so local, which allows you to stay within your comfort zone.
Bonus:
Facebook marketplace Facebook.com/marketplace — For those who have a Facebook account, Facebook marketplace is a treasure trove of everything from furniture to ceramics to art to household items to jewelry. You contact the buyer through Facebook.
Pictured below, clockwise, starting with upper left: 4 Wood folding theater / auditorium seats, $599 (Bonanza); Lladro Farm Girl porcelain figurine, $545 (Bonanza);  vintage Philco radio, floor model, $139 (5miles); Quimper bowl, bright yellow, looped duck handles, faience, handpainted, $268 (Ruby Lane).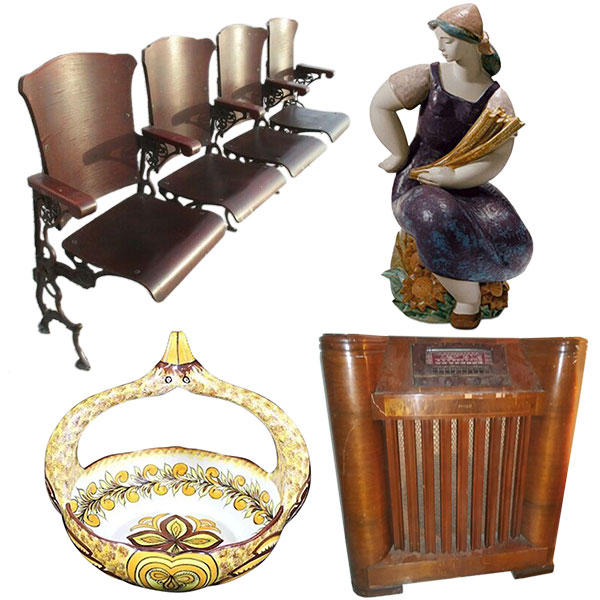 5 responses to "Top 7 Online Flea Markets to Satisfy Collecting Itch"