Thanks to Nurses Everywhere! A Letter by Florence Nightingale Sells at Auction
May 6 to 12 is National Nurses Week. We at Kovels' are grateful to nurses everywhere and applaud their hard work, dedication, resilience and compassion.
Florence Nightingale (1820 – 1910) is considered the founder of the modern nursing profession. A letter written and signed by Florence Nightingale sold at a recent Heritage auction for $1,250. The two-page letter was written in July 1856 to a British lord thanking him for advice and help regarding a generous donation made to British hospitals by an Ottoman sultan.
In November 1854, while England was at war with Russia in the Crimea, Nightingale traveled to Turkey with 38 nurses to serve at a British camp near Constantinople. She found injured and sick soldiers in overcrowded, unsanitary conditions with a lack of medical supplies. While doctors were skeptical of working with women, Nightingale and her nurses brought supplies, nutritious food, cleanliness and sanitation to the military hospital, as well as care and support for its patients, changes that significantly improved the death rate at the hospital. After learning of their dedication, the Sultan made the donation to British nurses and hospitals.
After the war, Nightingale continued to teach nurses, improve conditions of hospitals and advocate for healthier medical practices.
Pictured with the letter below is a photograph of Florence Nightingale that sold in a 2010 Heritage auction for $120.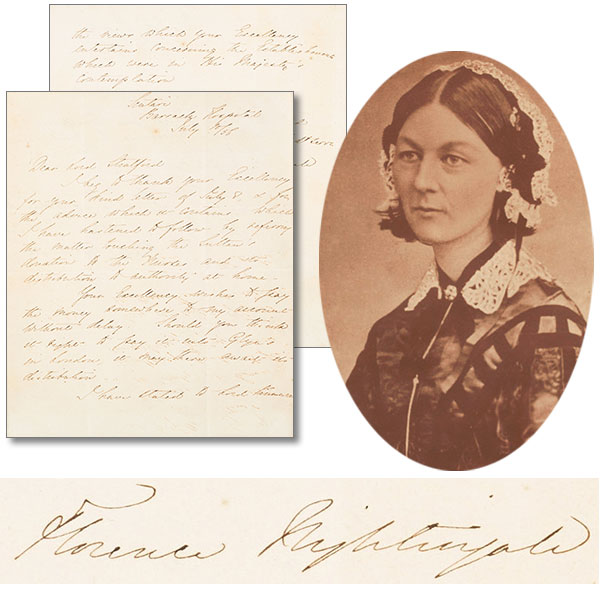 Photos: Heritage Auctions