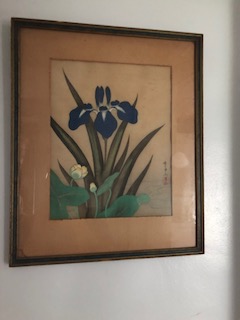 I have a framed print of a Blue Iris with Japanese calligraphy, that came from my husband\'s  house, which was over 100 years old.
I sent pictures to a contact in Japan to see if they could give me some information on the signature. They said the script was very old and they are still doing the research but suggested that it looks to be a piece done in the style of Korin Ogata, who was a painter in the late 1600's-early 1700.
I found this link regarding this person and the print looks very much like the information in this article.
https://en.m.wikipedia.org/wiki/Ogata_K%C5%8Drin
I do not imagine that it is an original, but you never know. I was wondering if you might be able to provide some information on how I could have it evaluated. Is there a place i should take it to and have it looked at?
Any information you could provide would be greatly appreciated.