Paul Revere – Patriot and Silversmith Whose Work Sells High
Monday, April 20th, is Patriots' Day, a holiday in Massachusetts, Maine, Wisconsin, Connecticut and North Dakota that commemorates the 1775 Battles of Lexington and Concord, the first battles of the Revolutionary War. Paul Revere, Jr. the famous patriot immortalized in the famous poem "The Midnight Ride of Paul Revere" for shouting "the British are coming," to warn the colonists of danger, was an important leader of the American Revolution who earned a living as a silversmith. So anything he made that is sold today gets high prices. A tablespoon was identified on an Antiques Roadshow as one made by Revere about 1795, and it was estimated at $7,000 to $10,000. A single tablespoon sold at Sotheby's in January 2020 for $16,250. Earlier tablespoons have sold for $4,500 (2006), $14,100 (2007), and $6,518 (2010). A set of six tablespoons sold at a Heritage auction in 2011 for $83,650. All of the spoons were marked "REVERE" in block letters on the backs of the handles. 
Other pieces of Revere silver have been found and sold since 1950. A fellow schoolteacher in the 1970s told me she had a Revere tablespoon that her family always joked about because it said Revere on the back. It was in a kitchen drawer. We convinced her to take it to an auction appraiser who offered to sell it. They got thousands of dollars. Don't be fooled by the Revere pattern by Towle Silver Company that is a copy made from 1906 to 1996. It has trim on the edge of the handle. An authentic antique Paul Revere, Jr. tablespoon has a plain handle that turns down at the end. Paul Revere, Sr. was the father of the patriot and also an important silversmith in the 1700s.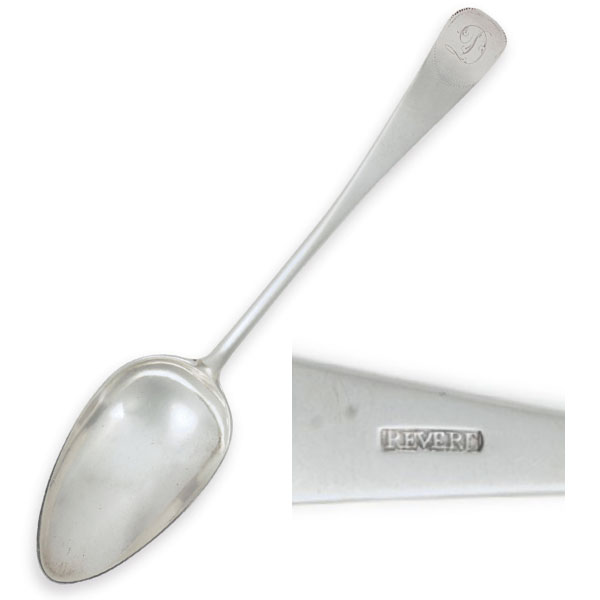 Photo: Sotheby's