Lost Ring Found, Returned After Nearly 40 Years 
A day of metal detecting turned up a small treasure — and triggered an internet search that found the owner of a class ring lost nearly 40 years ago. Last spring, Massachusetts resident James Gilbert was out searching for treasures in the city of Fitchburg with a metal detector. Usually, he found bottle tops and nails. But on this day he found a 1980 white gold class ring with an aquamarine stone set in the center and the initials CLB inside from nearby Auburn High School. 
 
He called the staff at Auburn High which brought him to the name Carol L. Bartlett, the only 1980 Auburn High graduate whose initials matched. After six months of searching, he posted to a Facebook group called Metal Detecting Massachusetts. In less than 12 hours, the ring's owner was found. Carol Bartlett — now Carol Mulvey — didn't remember losing the ring but was glad it was returned.  
 
In a story in the local newspaper, the Telegram & Gazette, Gilbert said the find is his favorite in the seven years since he started detecting.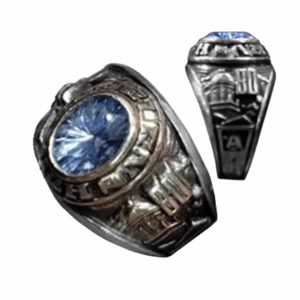 Photo: Telegram.com
2 responses to "Lost Ring Found, Returned After Nearly 40 Years "