A New Decade and New Looks for Fashionista Barbie
Barbie is not resting on her fashion icon laurels. With her hands firmly on her tiny waist, she is adapting to changing tastes. In the last five years, Barbie's maker, Mattel, has introduced more than 170 new looks, embracing body diversity, reflecting permanent disabilities, different skin tones and hair colors and textures, and even a hipster version of her boyfriend Ken. Introduced in 1959, Barbie was probably the first American teenage doll. The Barbie "family" includes Ken (1961), Barbie's boyfriend, sisters Skipper (1964), Tutti (1966), Stacie (1992), Kelly (1995), and Krissy (1999); cousin Francie (1966); and friends Midge (1963), Christie (1968), P.J. (1969), and Steffie (1972). Barbie has had more than 80 careers, ranging from astronaut (1965, 1986, 1994) and Olympic athlete (1975, 2000) to teacher (1995), dentist (1997), and presidential candidate (1992, 2000).
The newest line, the Fashionistas, opened the door to diversity and inclusion. New Barbies include one with vitiligo, a skin disease causing loss of pigment in patches of skin; a Barbie with a wheelchair with rolling wheels, working brake and ramp; a curvy Barbie; one with a smaller bust, less defined waist and more defined arms; a black fashionista with an Afro hairstyle; a Ken rocking with long hair, jean shorts and a tie-dyed tank top; and a Barbie with a prosthetic leg, to name a few of the new offerings.
Not bad for a doll about to celebrate her 61st birthday on March 9!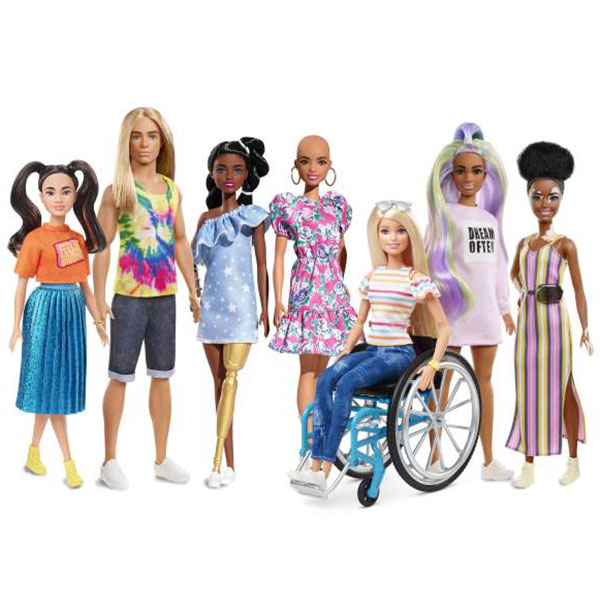 One response to "A New Decade and New Looks for Fashionista Barbie"