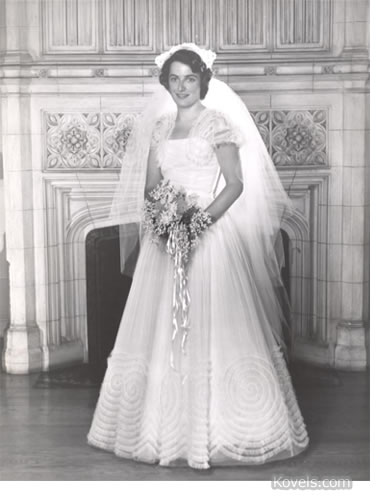 Terry Kovel's 1950 wedding gown is included in a vintage wedding dress exhibit, "Tying the Knot," at the Western Reserve Historical Society in Cleveland. It is displayed with Terry's formal wedding photograph, pictured here.
"I was told that Marlene Dietrich's daughter had the same dress in black," Terry says. "It was by a famous New York designer. The dress was one of the first designer dresses made of nylon."
A dress representing each decade from 1830 to 1980 is displayed at the exhibit, along with lingerie, undergarments and dresses from the trousseaus that women traditionally brought into a marriage. Visitors can also see historical items like invitations, gift registries, shoes, hats, jewelry, cake toppers, and a cake box from Grover Cleveland's wedding in 1886.
The exhibit opens on June 22 and runs through Tuesday, February 14, 2013. The Western Reserve Historical Society is located at 10825 East Blvd., Cleveland, OH 44106. Hours: Tuesday-Saturday, 10 a.m. to 5 p.m.; Sunday, noon to 5 p.m.
Look for prices of vintage clothing in the FREE online price guide at Kovels.com.