Glazed ceramic tiles have been used to decorate buildings since the days of the ancient Egyptians, but the history of modern tiles starts in sixteenth-century Britain, Spain, and Holland. At that time, overall repetitive designs inspired by Moorish motifs were popular, and so were tiles that featured an object or scene in the center. Most ambitious were scenes formed by joining many tiles. By the nineteenth century, tiles were decorated with transfer prints, hand-applied colors, molded designs, and inlaid (encaustic) patterns. By 1900 some tiles were decorated with photographic images.
Tile designs are influenced by the other decorative arts. At the turn of the twentieth century, art nouveau designs were popular and tiles often pictured intertwined vines and flowers. Plain tiles in muted colors with a rough, hand-tooled look seemed best for the Arts and Crafts home. By the 1920s geometric and abstract art deco patterns were in fashion, and tile surfaces were smooth.
There was a thriving tile industry in the eastern United States by the early 1900s. Massachusetts, New York, New Jersey, Ohio, and other Midwestern states had potteries that made tiles. The Spanish influence on architecture in California helped create the demand for tiles there in the 1920s and '30s, and dozens of companies—many still relatively unknown—made tiles for stairways, patios, porch floors, fireplace surrounds, and bathrooms.
By the 1950s tiles were used primarily in bathrooms and kitchens as an easy-to-care-for surface, not as an important part of the decor. Four-inch-square plastic tiles were introduced after World War II; glass, aluminum, and bronze tiles were being used by the 1960s; and iridescent and metallic finishes were popular. Decorated tiles were once again fashionable by the beginning of the twenty-first century. Examples from many countries, with designs ranging from Victorian birds to Picasso drawings, are found in new homes today.
Although art pottery was seriously collected by 1980 and many of the potteries that made vases also made tiles, the only tiles that interested collectors were those made before 1950 by well-known art pottery factories. It was not until 1987 that a national collecting group was organized and tiles designed by important artists or potteries began to sell for high prices. A 14-by-16-inch plaque picturing a scene in Venice designed by Ed Diers for Rookwood Pottery in 1929 sold for $49,500 in 1997. A 12-inch Grueby tile picturing a Viking ship sold for $73,700 at a 2002 auction.
The first commercially made tile in the United States was produced in 1876 by Samuel Keys at the Pittsburgh Encaustic Tile Company.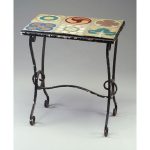 Photo: Perrault Rago Gallery
The Wheatley tiles used on the top of this wrought iron table were inspired by Moorish designs. Tile-topped tables would not stain from water, food, or alcohol-a practical idea started in the 1920s.