Early Twentieth-Century Lamp Makers
The best-known names in early twentieth-century American electric lamps are Tiffany, Handel, and Pairpoint. All three companies made elaborate art glass lampshades in art nouveau and art deco styles using striking shapes and colors, usually mounted on bronze bases. Table lamps by the "big three" sell for the highest prices, but there are similar, signed lamps by less famous but respected makers (see box on page 0000) and also lamps that are well-made but unmarked and unattributed. Lighting fixtures in the Arts and Crafts style were made by Gustav Stickley's Craftsman Workshops, Elbert Hubbard's Roycroft community and a few other shops. Emeralite and Aladdin lamps are also popular today.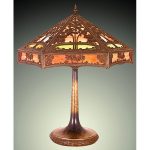 Photo: Fontaine's
The invention of the electric lightbulb made it possible to design a lamp that lit a tabletop. The colored slag glass in this lamp by Edward Miller & Company gave an added glow.