Around the 1880s, when the popularity of pressed glass was waning, companies like Mt. Washington Glass Company and Hobbs, Brockunier & Company in the United States, and Thomas Webb & Sons and Stevens & Williams in England introduced glassware with new colors, applied designs, and enameled details, known today as art glass.
Art glass, in general, is decorative, and many of the English and European pieces were not made to be functional. American companies added "useful" pieces to their catalogs. Great-grandmother brought out the Mt. Washington Burmese sugar bowl and creamer and Hobbs Peachblow pitcher for tea parties, but a Webb Matsu-No-Ke vase would have been kept in the curio cabinet. Complete table settings were not available.
Although American glass companies continued to make handmade art glass at the beginning of the twentieth century, public taste shifted from American shaded glassware, like Peachblow or Amberina, to fancier European products, like cameo and iridescent glass. New colors, finishes, shapes, and decorations reflected the naturalistic styles and subjects favored by artists and designers of the era. Most of the same French and Bohemian companies that produced art nouveau glass in the 1910s went on to art deco designs in the 1920s and early 1930s.
In the 1930s, there was also renewed interest in nineteenth-century glass styles. Several factories, including Fenton Art Glass Company, Gunderson Glass Works, and Pairpoint Manufacturing Company, introduced glassware that imitated the styles of the 1880s. Much of it was handmade in the same colors and with similar decorations.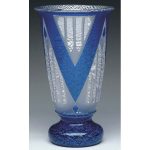 Photo: James Julia
Art glass makers kept up with the popular styles. Many cameo glass companies made art deco-style accessories in the 1920s and '30s. This 8-inch geometric vase was made by Muller Frerès in Lunéville, France.