European Pottery and Porcelain
At the turn of the twentieth century, the United States had thriving ceramic industries in New Jersey and the Ohio-West Virginia area, but economic conditions following World War I brought changes. Less-expensive dishes were being made in Europe and Asia, and some American potteries closed. The Depression caused more economic hardships, and many more factories closed. Beginning in the 1930s, fine dinnerware from England, Germany, and Japan squeezed out all but a few American factories. At the same time, clever, colorful art deco designs from Czechoslovakia and England attracted young buyers who wanted something modern, while inexpensive restaurant wares and serving bowls were imported from Asia. The industry slowly moved overseas.
Some factories like Haviland or Mettlach have been recognized as makers of important ceramics for many years. Some, like Massier and Gouda, were not fully appreciated until the 1970s.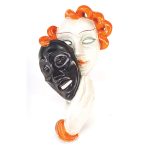 Photo: Rago
Art deco pottery sold well in the United States. This hanging double-mask of a woman in the popular colors of orange and black was made by Goldscheider of Austria.