Japanese Pottery and Porcelain
Often the name of a type of Japanese ware represents both a geographic area and a pattern. The definitions used here are those you will find in common use, and they may differ from those accepted by scholarly sources. Japanese ceramics have been admired for centuries, but in the early 1900s almost all ceramics imported in quantity from Japan were inexpensive, poor-quality pieces made for dime stores and department stores. In the United States before 1950, the name Japan on the bottom of a piece came to mean kitsch or poor taste, and good dinnerware and fancy vases were shunned if made in Japan.
But tastes change, and a few types of inexpensive Japanese pottery and porcelain have attracted today's collectors. About 1920, rainbow luster tea sets and other dishes were sold in the United States. Mud figures—partially glazed figurines of people, some holding fishing poles—were made to be used in fish bowls and planters. Children's and doll's tea sets were manufactured in patterns that copied adult-size English and American examples. Blue and white dinnerwares, including those in the traditional Willow or Phoenix Bird patterns, were also made.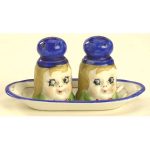 Googly-eyed dolls were popular, and the googly eyes were used on some inexpensive Japanese dime-store ceramics in the 1930s and '40s. This salt and pepper set looks like a pair of dolls' heads.