Asian Pottery and Porcelain
When you find a piece of Asian porcelain or pottery, you must always remember that the writing in the mark does not always indicate the maker or age; you may have a later exact copy. Chinese and Japanese ceramics show a difference in artistic practice between the modern Western ceramicist and the Asian ceramicist regarding imitation. If an Asian artist considered a design, glaze, or shape beautiful, he or she often copied it, line for line, even to the mark. This was an accepted practice and not a type of faking.
Japanese, Chinese, and Korean potters borrowed freely from each other's designs. Europeans copied the Asian work, and Asian artists made pieces to suit the European taste. So a piece with European designs may have been produced in Asia, and a dish with Asian-style decoration may have been made in Europe.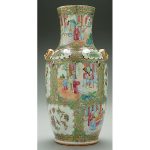 Photo: Brunk
Rose palette porcelains made in China and known to collectors today as Famille Rose became popular for export by the 1750s. This 17 1/2-inch-tall vase has panels picturing figures, birds, and butterflies. It was made in the late nineteenth century.