Some brands have attracted collectors more than others. The most popular include Coca-Cola, McDonalds restaurants, and M&Ms. Some of the others are Planters Peanuts, Anheuser-Busch, Budweiser, Kentucky Fried Chicken, and soft drinks like Pepsi-Cola, Moxie, and Hires Root Beer.
Other well-known collectible advertising icons include the Michelin Man (1895), the Morton Salt Umbrella Girl (1911), Mr. Peanut (1916), the Jolly Green Giant (1925), Kellogg's Snap, Crackle, and Pop (1941), Kentucky Fried Chicken's Colonel Sanders (c.1956), Ronald McDonald (1963), the Pillsbury Doughboy (1965), the California Raisins (1987), and the Energizer Bunny (1989).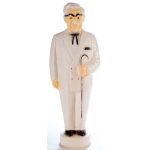 Colonel Sanders was a real person. He founded the Kentucky Fried Chicken chain. The Colonel was still its spokesman after he sold the company, and even after he died in 1980.